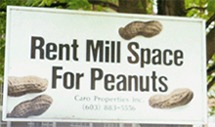 Caro Properties, Inc. is a family owned and operated Commercial and Industrial Property Management and Real Estate Investment Company established in 1977 with a primary focus on historic mill buildings in Southern New Hampshire. In addition, we have a shopping center in Lebanon, New Hampshire and an office building in the heart of Boston. We pride ourselves on servicing our tenants and leasing space at below market price. "Rent Mill Space for Peanuts" has been our motto for the last 25 years.
We have a variety of commercial properties and industrial properties with many types of space for rent in various sizes. We provide space for entrepreneurs, start-ups, or established businesses. We also provide space to fill the needs of large corporations as well as a variety of other different types of businesses. Most of our property is deemed mixed use and/or general industrial and is excellent for expansion or even downsizing in order to fit your business requirements.
The mill buildings are well suited for manufacturing, office, warehousing, distribution, storage, research and development as well as retail space. Depending on your needs, we have space in move-in condition. We have on-site parking and our tenants have 24-hour access to our buildings. Some available features include truck level loading docks, drive in space, large freight elevators, high ceilings, and some areas with heavy floor loading capability. All of our buildings are equipped with full sprinkler systems and monitored fire alarm protection. We are a hands-on management company with our own 24-hour on-call maintenance crew.
Some of our current tenants include an office furniture retailer, dance studio, machine shop, clothing distributor, printer, medical products distributor, temporary placement agency, computer software company, and a large research and development firm.